Internationally acclaimed impressionist Peter A. Miller follows his artistic instincts on light and composition to expose the inner vitality of his subjects. The application of light and color projects emotionally rich expressions and establishes themes of peace, reflection, simplicity, and nature. He brands his work with dynamic composition evoking a sense of motion, depth, simplicity and flow between natural elements.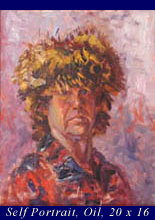 Miller's portfolio consists of impressionistic portraits, landscapes, and still lifes portraying the harmony between composition, light and color. Currently working exclusively in oils "en plein air," he has also spent considerable time in other mediums including pastel and charcoal.
Born in New York 1949, Miller has been painting since 1977. He began his studies in New York City most notably at the Art Students League under Dan Greene and Ray Goodbred (later studying with Robert Brackman and Carroll Jones). Miller also gathers his education and inspiration from the works of artists including Velazquez, Turner, Constable, Pissaro, Bellows, and Schmidt.
Currently living in Northern Vermont with his wife and three daughters, Miller integrates the surrounding natural elements in his "alla prima" methods. Painting outdoors whenever possible, he works with only natural light and the composition of the landscape. He frequently travels around the country and overseas to paint foreign landscapes on location. The Maine coastline is particularly alluring to Miller for its rugged environment and hard working marine community.
Miller's artwork is procured by corporations and public collectors around the world.